Flange guide and Nut holding device are adapted as LR-30's parts.
2014/09/01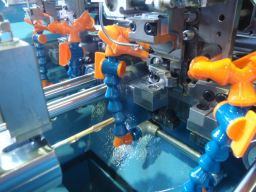 Particularly effective for nuts on which any dents and deformation by striking are problem. Based on the flange type guide for the Super series, the motion method and lubricating method for cutting oil are improved.
Please do not hesitate to contact us
if you have any questions about products.
20-16 Higashi-kojiya 1-chome,
Ota City, Tokyo 144-0033 Japan

5-24 Tawaradai 9-chome,
Shijounawate, Osaka 575-0013 Japan