ST-SeriesST-Series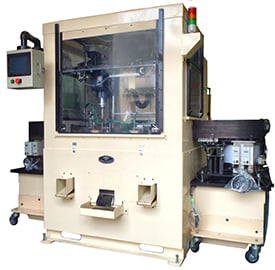 The specialized machine for continuous fabrication of domed cap nuts and bottomed nuts.
Ready made Tapping unit is mounted. In case that the servo type is selected, parameters such as stroke setting can be set as digital values.
The work holding mechanism to be used during automatic conveying and screw cutting is designed for the respective works.
A straight tap (but limited to the form rolling tap) that is available in the market is used.
The automatic conveying is carried out by rotating the index table. In case of work holding with a collet chuck, there are four stations divided by 90 degree each. In case of work holding with a rotation stopping hexagonal guide, the machine has six stations divided by 60 degree each.
Select by shape of nut
ST Nut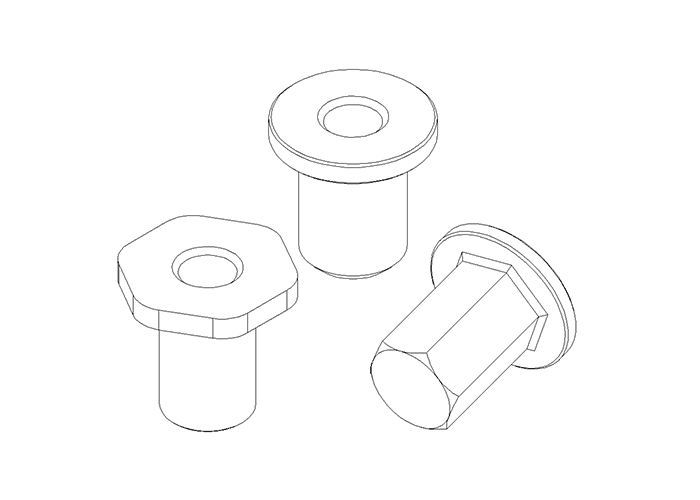 Range of screw processing
ST(BT)-14
M4~M14×P1.5
ST-Series
ST-Series
Model
ST(BT)-14
Range of screw processing
M4 to M14 x P1.5
Nut tapping style
Upright type reciprocal tapping unit
Pitch sending type using a feeding gear
Work fixing method
Pneumatic collet chuck or turn stop hexagonal hole guide
Shape of tap used
Form rolling tap
(Hand tap type available in the market)
Tap replacement style
To be fixed with a dedicated sleeve or a tap holder available in the market
Work feeding style
Parts feeder + Linear feeder
Stroke setting for main shaft rotation & screw thread cutting
To set stroke by the tapping unit
Main shaft motor spec.
Servo-motor 0.6 to 2.7 kW
Induction motor 0.35 to 2.2 kW (3 phase / 4P)
Ready made Tapping unit
Main shaft rotation range
To be determined by the selected unit
In case of servo type ST4: 550 rpm
Main shaft control method
Dedicated driver (Ready made Tapping unit)
Coolant pump
Dip type coolant pump
180W (3 phase / 2P)
Hopper driving motor
*
Hopper driving motor
Induction motor
25W (3 phase / 4P)
Hydraulic unit
*
Control device
Sequencer / Touch panel
Production counter
Touch panel(Tap lifetime / total count)
Failure detection items
Conveying motions of nut feeding, nut clamp, etc. / tapping unit / torque / empty
Other remarks
For auto conveying, in case of the chuck type using an index table, it is divided into 4 by 90 degree angle. Incase of hexagonal hole guide, it is divided into 6 by 60 degree.
Two shafts or single shaft can be selected.
A mist collector can be attached if necessary.
Main replacing parts
Nut feeding terminal / nut taking-out hand collet chuck(hexagonal hole guide)
Cutting lubricant tank capacity
100L
Machine size
2300 mm x 1720 mm x 1950 mm H
(in case 2 shafts / ST4 is selected)
Machine weight
2000kgs
Other standard functions
*
Options / others
Screw existence inspection / processed hole cleaning
Production volume per minute (for reference)
3 to 7 piece / One axis
Please do not hesitate to contact us
if you have any questions about products.
20-16 Higashi-kojiya 1-chome,
Ota City, Tokyo 144-0033 Japan

5-24 Tawaradai 9-chome,
Shijounawate, Osaka 575-0013 Japan