LR-50 is released.
2016/06/30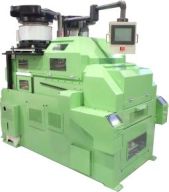 Effective for nuts for which the dents and deformation at the complete thread is anxious with S-5N or S-7N as well as medium long (too short for LR-120) nuts that need a special care on the Bend type tapper.
Because a 2.2 kW to 3.7 kW motor is built in as standard just like LR-120,this is applicable for tapping for about M10 to M20 size.
Please do not hesitate to contact us
if you have any questions about products.
20-16 Higashi-kojiya 1-chome,
Ota City, Tokyo 144-0033 Japan

5-24 Tawaradai 9-chome,
Shijounawate, Osaka 575-0013 Japan